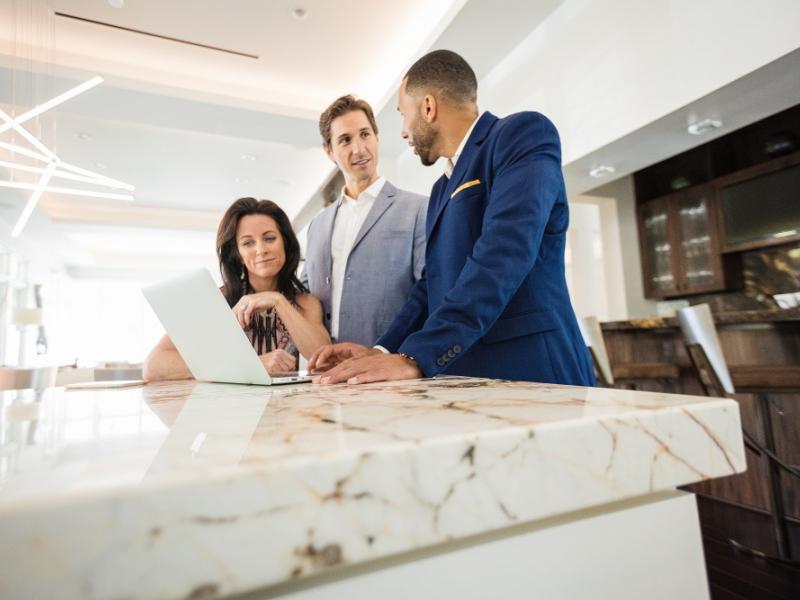 Selling your home is one of those big life events. Because most people don't sell a home very often, some good solid advice in the beginning can help avoid making costly errors in judgement.
So where should you go for the best advice? A real estate professional. Find someone that you can trust, invite them to your home, share your plans with them, and get all your questions answered. Get an agent involved before you start any preparation. A good agent's guidance will go a long way to save you time, money and aggravation.
Choosing the right real estate professional, pricing your home strategically, and properly preparing your home are the primary keys to success.
Choose an experienced trustworthy real estate professional.
You can read all the information you want about how to sell a house, and talk to your friends and neighbors, but you will still not have the knowledge, connections or experience to market your home effectively and avoid costly mistakes. You will also not be in a position to effectively negotiate the terms of the sale, handle home inspection issues, or successfully navigate your way through the complexities and obstacles from showing to closing.
When selling your home you should be working with an agent that possesses outstanding marketing, communication and negotiating skills. These are vital traits to look for in a great listing agent.
Since over 90 percent of all buyers view their home online, you want an agent who has the skills to make your home standout with outstanding photography, and detailed well-written listing descriptions highlighting the selling features of your home.
Price your home strategically.
Strategically pricing your home is one of the most important skills of a professional agent. Trust your agent to formulate a price to effectively compete with other homes currently for sale, considering similar homes that recently sold and current local housing market conditions.
There can be undesirable financial consequences of both pricing too high and pricing too low. Thinking you can start out high and reduce the price over time will likely cost you in the end. You don't want to overprice your home because you will lose the freshness of the home's appeal after the first two to three weeks of showings. After three weeks, demand and interest wane. On the other hand, pricing it too low may cause you to get less than your home is really worth. However, in a fast-paced market homes priced below the market will often receive multiple offers, which will then drive up the price to market.
Review the research your agent has done to arrive at the best listing price, ask lots of questions so you understand how all the elements relate, and then trust your agent's skills to strategically price your home to compete in your local real estate marketplace.
Ensure your home is ready to sell
What exactly does this mean? Don't put your home on the market until it's clean, uncluttered, and necessary repairs are made.
At a very minimum you need to clean everything from top to bottom and remove unpleasant odors. While you're cleaning, remove clutter and depersonalize your home. This includes packing away knick-knacks, family photos, wall hangings, and any excess furniture that is making your home feel smaller. Your agent can help you decide what should go and what should stay. Your agent may also recommend rearranging some of the remaining furniture and decor items to improve the flow and make buyers feel more at home.
Any items that are clearly not functioning properly should be repaired before listing your home for sale. Items such as dripping faucets, leaky drains, rotted wood, etc. should all be repaired or replaced. Buyers will get a bad impression of your home if regular maintenance is not done.
Be sure the exterior of your home is clean, gutters are cleaned out, landscaping is in good order, and sidewalks, porches, and entryways are clean and appealing. A fresh coat of paint on the front door, and flowers or seasonal decor at the front entry make a great first impression and make buyers feel welcome.
If you are interested in getting the highest possible price for your home, you agent may recommend making improvements such as painting rooms that need a fresh or neutral coat of paint, replacing stained or worn carpeting, refinishing hardwood floors, and professional staging, among other items. The listing price you choose will reflect your home's appeal to today's buyers in its present condition.
Prepare yourself for the move
Once you've accepted an offer on your home you should be ready to move. So, while you're cleaning and de-cluttering, you should pack away items you won't need until the next home in clearly-labeled boxes and stack them neatly in the basement or garage. To make the final move easier, pack away off-season clothing and seasonal items too. It's less you'll have to do when you're stressed out with the move.
Your agent will take care of all the details of the offer, negotiations, inspection, and closing. They will provide you with all the costs associated with selling and closing on your home, and help you find reputable contractors to help you with all aspects of selling and moving.
Choosing the right agent is the first, and most important step, in selling your home for the best price within your time frame, with the least amount of stress.