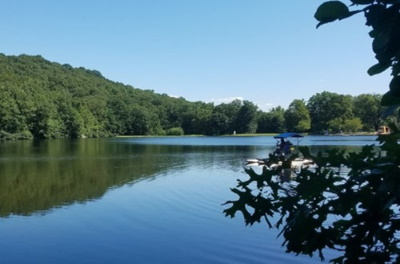 The Borough of Bloomingdale is home to approximately 7,600 people and is situated on 9 square miles of beautiful lakes and hills in Passaic County. It is 40 miles or so northwest of New York City.
Communities located partially or completely within the borough include Cold Spring Lake, Glenwild Lake, Iosco Lake, Lake Kampfe, Morse Lakes, Mothers Lake, Norvin Green State Forest, Pompton Junction, Star Lake and Twilliger Lake.
Bloomingdale is bordered by Pompton Lakes, Ringwood, Wanaque and West Milford Township in Passaic County and both Butler and Riverdale in Morris County.
Norvin Green State Forest is located in Bloomingdale, a 5,416 acre forest near the Wanaque Reservoir. Accessible by foot only, it is part of the Wyanokie Wilderness Area and contains an extensive trail system built on old logging roads, several of which connect with trails in The New Weis Center and reservoir property. The trails climb hills up to 1,300 feet and provide views of the Manhattan skyline, the Wanaque Reservoir, Burnt Meadow Brook and Lake Sonoma.
The Bloomingdale School District serves public school students in kindergarten through eighth grade in the district's three schools. For ninth through twelfth grades, students attend Butler High School as part of a sending/receiving relationship with the Butler Public Schools.
Javascript is required to view this map.