CENTURY 21 Crest Real Estate, Inc. is a full service Real Estate company focused on you, the consumer. We are strategically located on Route 23 North in Pompton Plains, New Jersey, providing a convenient location for all of our Northern New Jersey Communities.
There are over 75 Licensed Real Estate Professionals at CENTURY 21 Crest Real Estate, Inc. We can boast that our Real Estate Agents have an average of 16 years experience.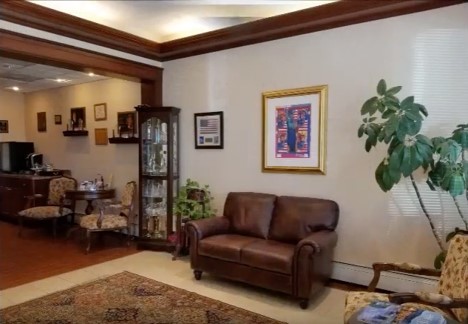 TRUE ONE-STOP SHOPPING EXPERIENCE!
Our office is located at the 142 PROFESSIONAL CENTER on Route 23 North. This center offers a full array of independent Real Estate-related companies, including a mortgage lender, title company, financial services, and an attorney's office.
Our facility is top notch, with over 3000 sq. ft. devoted to our office alone. A professionally staffed, custom cherry reception desk welcomes visitors to a marble-floored, cherry wood-trimmed waiting room. There are also three tastefully decorated conference rooms available for private consultation.
Our professional agents enjoy cutting edge real estate technology. The entire building is connected to its own private network. High-speed Internet access is available for our Real Estate professionals and our visitors. There is a 30+ seat training facility on site. The latest in software and hardware is available for our agents' use.
CENTURY 21 Crest Real Estate, Inc. has enjoyed an excellent reputation specializing in Residential, Commercial and Rental properties for over 40 years. We have access to thousands of property listings through membership in three (3) Multiple Listing Services serving, Morris, Passaic, Bergen, Essex, Hudson, Sussex, Middlesex, Monmouth, and Ocean Counties.
Whether you are looking for a new home, condo, townhouse, rental or commercial property, we get the job done. We strive to provide a top Real Estate Agent relationship and experience with our clients by delivering an unmatched level of Quality Service. Our success is built on referrals and we want our next referral to come from you.
With the nation's largest and best known Real Estate network behind us, we have more resources to help a client sell an existing home and purchase a new one. We professionally handle all aspects of Real Estate including Residential Resales, New Construction, Commercial, Investment, Rentals, 1031 Exchanges and so much more. We can put customers in touch with someone across TOWN or around the WORLD.
CREST GIVES BACK
For the past 40+ years, if you ask local residents about CENTURY 21 Crest Real Estate, Inc. you will most likely hear of the exemplary treatment they received when they were purchasing or selling their home here in the Northern New Jersey area. But there is another story you may hear . . . one of a group of giving and generous individuals who care about the communities they serve.
The professionals at CENTURY 21 Crest Real Estate, Inc. have been volunteering their time and giving generously to various Township and Community programs for decades. To honor these professionals, Owner/Broker Patricia Wojtyszyn has established the "Crest Gives Back" initiative.
"I have been proud of the generosity of this group of professionals for years. Crest Gives Back gives us the opportunity to acknowledge their altruistic endeavors," said Patricia Wojtyszyn, Owner/Broker
Whether it be flag planting along the Turnpike for Memorial Day, serving Thanksgiving Dinner for NewBridge Services, volunteering at Grains of Hope and Relay for Life, collecting food for the Food Pantry, working with Habitat for Humanity, Gift Drives for Pequannock Families in need, sponsoring Concerts & Local Town Events, participating in Pequannock, Lincoln Park, Wanaque & Riverdale Street Fairs or supporting Township athletes and the local FBLA chapter, CENTURY 21 Crest Real Estate, Inc. has been there through the years.
"The bottom line is that we really care about our community. When you think about it, it makes sense. We are in the business of helping people realize their dreams of home ownership, and very often we are their first introduction to the community. So really, our clients are our community," said Marie Episale, Broker/Manager.
PROFESSIONAL AFFILIATIONS
North Central Jersey Association of Realtors
National Association of Realtors
New Jersey Association of Realtors
Global Business Council
Broker Business Advocacy Association