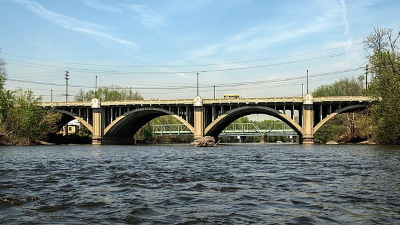 The Borough of Totowa, located on 4 square miles in Passaic County, is home to approximately 10,800 residents. The Borough is about 20 miles from New York City, and is bordered by Haledon, Little Falls, Paterson, Wayne and Woodland Park.
The name of Totowa comes from the Native American name for the Great Falls of the Passaic River in nearby Paterson, and literally means "sinking or falling water," or "between mountains and water."
There are two public school buildings in Totowa; Washington Park School serving grades 3-8 and Memorial School for students in grades K-2. Passaic Valley Regional High School, located in Little Falls, serves grades 9-12 for the communities of Totowa, Little Falls and Woodland Park.
Photo: Rt. 46 bridge in Totowa - Jag9889 [CC BY-SA 4.0 (https://creativecommons.org/licenses/by-sa/4.0)]
Javascript is required to view this map.